Ceiling & Attic Fans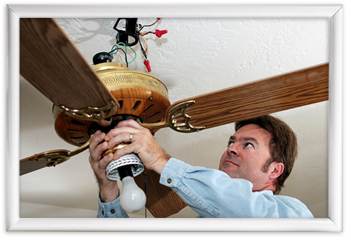 Insufficient venting can lead to high attic temperatures, which in turn, can raise the temperature of your home, resulting in higher utility bills, as well as shorten the life expectancy of roofing materials. Thomas Edison Electric can install a new attic fan or repair problems with a noisy fan that does not do the job it's meant to do.
Ceiling fans can result in meaningful energy-savings. Most ceiling fans use only about as much power as a 100 watt light bulb. By installing a multi-speed reversible fan, you can save anywhere from 25%-40% on cooling costs and up to 10% on heating costs. Call Thomas Edison Electric to install ceiling fans throughout your home expertly.
Thomas Edison Electric will also repair ceiling fans that have stopped working, vibrate or shake; fans that do not circulate air to the extent that they should, make mechanical, buzzing or humming noises while running, or move too slowly to do the job required.