Electrical Code Violations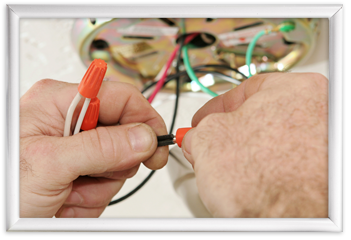 Thomas Edison Electric provides free electrical safety checks with each service call. Don't delay. Call Thomas Edison Electric today for your free report to learn about any areas that may warrant urgent attention, as well as enhancements that can save you money. Your business may be required to have a risk valuation as part of your ability to obtain insurance coverage.
The electrical safety checkup will examine whether your business is code compliant, examining interior and exterior electrical systems, checking grounding systems, arc fault circuit interrupters (AFCIs), surge protection, switch and wall outlet conditions, ground fault circuit interrupters (GFCIs), heating and air conditioning. It will also reviewing the presence, placement, and condition of smoke detectors and carbon monoxide detectors, interior and exterior lighting for safety and security, and much more.
The National Electrical Code is the United States standard for the safe installation of electrical wiring and equipment. The code categorizes the requirements for safe electrical installations into a single, standardized source. It is part of the National Fire Codes series published by the National Fire Protection Association and is commonly mandated by state or local law. Well versed in the code, Thomas Edison Electric professionals will fix any problems found at the time of the inspection, keeping your employees and customers safe from electrical shock and electrical hazards.
It's free! Why wait? Schedule your electrical safety inspection today to make sure your business is code compliant.
Prevention is the antidote to dire emergencies. Don't delay; call Thomas Edison Electric to schedule an electrical inspection today. Thomas Edison Electric will correct any code violations on site.