Electrical Panel & Circuitry Evaluations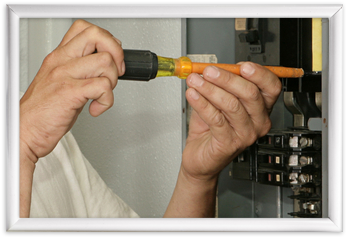 Who do you call when your home experiences flickering lights, blown fuses, a silent door bell, or a sizzling sound from your electrical panel?  Thomas Edison Electric, of course!
Luckily, many of the risks connected with older electrical systems can be prevented by enhancing the electrical panel. Thomas Edison Electric can review your home's electrical system to determine if an upgrade may be necessary.
Importantly, today's homes may be operating with inadequate electrical support for their newer, increasingly sophisticated electrical appliances and technology. Electricity is the lifeblood of modern life. From the coffee machine and refrigerator in the kitchen to home entertainment centers in the family room and basement, to computers and printers in the home office, today's advanced technology can challenge existing electrical systems.
Thomas Edison Electric will evaluate your electrical needs and systems, upgrading/replacing your electrical panel and circuitry, as needed. Don't let unwanted electrical disruptions interrupt your day. The only thing sizzling should be the steaks you are cooking for supper. When more amperage is transmitted across electrical wires than circuits can manage, circuit overloads happen.  Don't delay, call Thomas Edison Electric today.