Programable Thermostats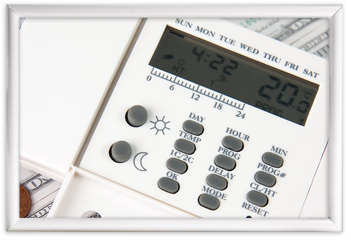 Heating and cooling your home uses more energy and drains more energy dollars than any other system in your home. Typically, 43% of your utility bill goes for heating and cooling. What's more, heating and cooling systems in the United States together emit 150 million tons of carbon dioxide into the atmosphere each year, adding to global climate change.
According to the Department of Energy, you can save as much as '10% a year on your heating and cooling bills by simply turning your thermostat back 10% to 15% for eight hours.' You can do this automatically by installing a programmable thermostat. As a result, you save money by not running the equipment when you don't need it.
Call Thomas Edison Electric to install a programmable thermostat in your home and enjoy the savings!