Replace Light Bulbs & Ballasts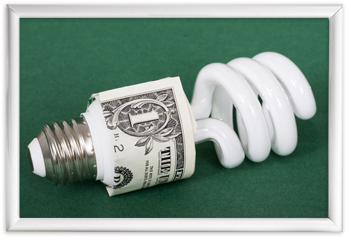 There is a new frontier in lighting that is kinder to the environment and your bottom line. Choosing the right light bulb can help save money in your business by reducing energy consumption.  New technologies have resulted in energy-saving light bulbs.  "Energy-efficient light bulbs use 75% less energy than regular incandescent bulbs and they can last up to 10 times longer.  For each light bulb that you replace, you can save around $30 in electricity costs over the lifetime of the bulb.  Moreover, energy-efficient bulbs only put out 25% the amount of heat a regular light bulb does, so this makes them also safer and allows you savings in cooling costs too."
The International Energy Agency reports that a global switch to efficient lighting systems would trim the world's electricity bill by nearly one-tenth.
Thomas Edison Electric can survey your electrical needs and make recommendations as to the best lighting to save your business energy and money. Who knew that screwing in one kind of light bulb versus another bulb type could do so much good?
Lighting Safety Recommendations
Light bulbs and ballast size and wattage should be in sync.
Suggested wattage should not be exceeded.
Flickering or dimming lighting requires the attention of a licensed electrician. Don't delay, call Thomas Edison Electric immediately.