Indoor & Outdoor Lighting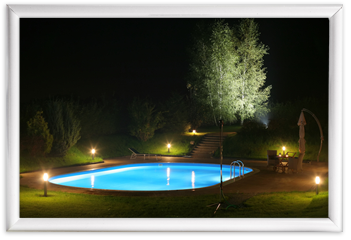 Lighting is as essential to home decoration as paint or accessories. It is a wonderful and powerful tool to transform the look and functionality of the rooms in your home. The right light in the right fixture will create atmosphere, highlight a favorite piece of art, shine light on a family portrait, warm a dark corner, establish a functional workspace and illuminate the flowers in your garden. Realtors know that great lighting helps sell homes. Let the professional team at Thomas Edison Electric shine a light on your home, translating your vision into reality.
Outdoor and Landscape Lighting: Outdoor lighting is a great way to add security and light up the path to your home's entrance. Outdoor lighting can add drama and curb appeal to your home, highlighting your home's architecture and landscaping. By placing lights at an angle and lighting objects like trees, shrubs, sculptures, or fountains from below, you can highlight the unique features in your garden.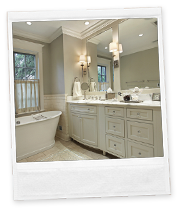 Bathroom Lighting is an opportunity to combine purpose and ambiance by providing the perfect kind of lighting for putting on make-up and shaving in the morning to enjoying a relaxing bubble bath in the evening. Dimmers may be useful here as well to help children find their way easily during the night.
Kitchen Lighting is a chance to showcase granite counters, stainless steel appliances as well as focus on utility surfaces for cutting up vegetables or baking a cake.  Under-cabinet lighting will shine a light on the icing on your cupcakes as well as the colors of your counters. Pendant lighting over the island in your kitchen will create an attractive atmosphere that will be appreciated when guests gather around, as they like to do. Placing a beautiful fixture over your kitchen table will both illuminate your home-cooked meal and make a WOW statement that puts your kitchen in the spotlight.
Basement Lighting will turn your dark, dank space into a fun playroom, exercise area, or 'hangout' for your teenagers---and is an integral part of a finished basement. Most basements do not have much natural sunlight, so the right lighting can make all the difference in creating a warm, well-lit space for your family to enjoy.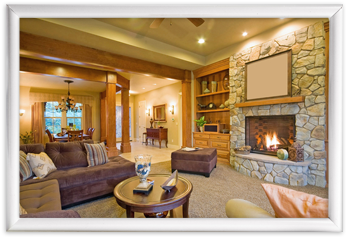 Recessed Lighting: Adding recessed lighting to your home will renovate your spaces, creating a new look and feel that is more contemporary and spacious.
Recessed lighting allows you to show off interior architecture and decoration, highlight work areas in your home office or kitchen, and light up your basement. Placing recessed lighting in the ceiling of a finished basement will give the basement a roomier atmosphere while allowing for activities such as ping pong. By installing recessed lighting, your basement can become an excellent place for your teenagers to entertain friends around an Xbox or chessboard.
Thomas Edison Electric can install many different types of recessed lights, including Energy Star, Fluorescent, Incandescent, LED Swivel Lighting, Multiple Recessed Spotlights, Low Voltage, and Standard Halogen, Standard Halogen, among others.
Thomas Edison Electric can help you determine what type of recessed lighting is right for your home by explaining the merits of each style as it relates to your family's particular requirements. Call the team of professionals at Thomas Edison Electric today.
Track and Accent Lighting: Track lights are perfect when you want to accent objects with light or work under a directional task light. Track lights have many options for the track itself as well as the size, style, and color of the light fixtures. Tracks are especially handy when a room needs additional light directed throughout the room. Lights can be aimed where you need it 'onto desks, into pantries, or to show off artwork.